Tour Highlights
TOUR HİGHLİGHTS
Lycian Way
Walking on the Lycian Way, one of the 10 longest trails, will be an unforgettable experience for you
-Chiemera Flames :Mythological Fire Chiemera, which has not been extinguished for thousands of years
-Memorable Views :
-Maden Bay, Pirate Bay, Phaselis, Olympos, Cirali, turquoise breaks in unique bays
-2007 best photo frame of the year Gelidonya Lighthouse Discovery
-Family Bungalow Accomadation : Feel the real atmosphere of Turkish hospitality during this tour
Note : This is a suggested itinerary, let me customize the tour according to your wishes as a Private Tour or Group Tour.
TRİP DETAİLS
MEETING POINT
Antalya Airport
Group Tours: 09:00 :Antalya Airport
Private Tours: Available flights in the morning or mid-day
Transfer to the beginnig of the Trail from Antalya Airport
RETURN FLIGHT
Available flights for you at 4.day of the trip or After 20:00
Season
Four seasons. Best in spring and autumn seasons
Activity Level
Easy-Medieum
Tour Duration
4 Days
ACCOMMODATION
During the walk, we stay in Family bungalow houses run by local families
Cesur Pension / Bungalow
Equipment
Sun cream, Hat,Walking Sticks,Swimming suites ,walking sticks,
Meals
Lunch in village houses or Picnic
Group Size
1-15 persons
Transportation
Air conditioned bus,vito or Private car
SWİMMING BREAKS
We have swimming breaks at the most turquoise beaches at the end of the walks or during the walk.
Map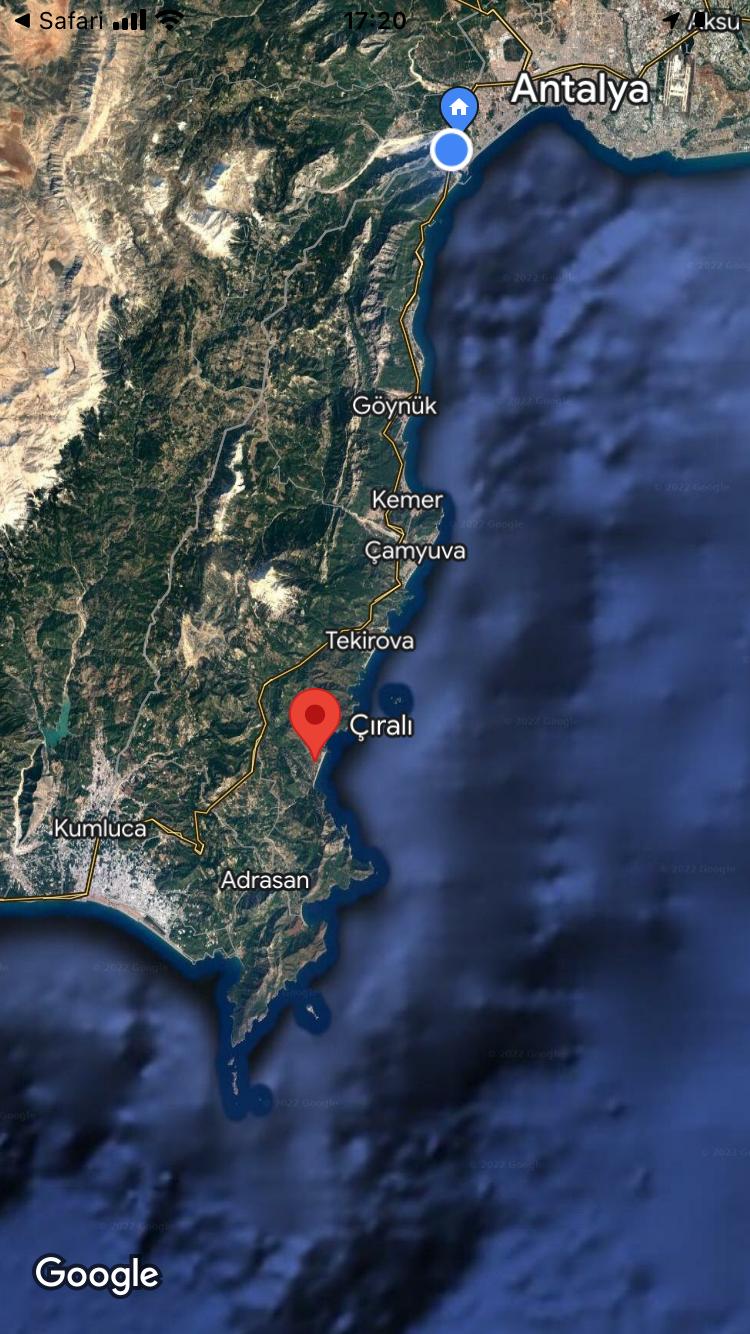 Itinerary
Day 1 :
Alacasu-Phaselis Ancient City and Bay -Tekirova
Visit Olympos Ancient City
( 9 km -4 hours / 50 m ascent 50 m descent - Sea level)
After meeting at the airport or bus station in Antalya, we will have a break on the way before we start to trek for breakfast or to change.
After 45 minutes drive we reach Alacasu bay and start our walk from here. The path leads us to Phaselis in the combination of blue and green colours accompanied by bays parallel to the sea. We visit the ancient city of Phaselis with the guidance of our guide. After visiting 3 harbours, main street, Roman Baths, Temple, Hellenistic Theatre, Agora, Hadrian's Gate, we take a swimming break in the sandy beach. After swimming break , we complete the walk in Tekirova. We also visit the ruins of Olympos at late afternoon by walking from Olympos beach which is very famous with its sandy and turquoise beach.
Day 2 :
Beycik-Ulupinar-Chiemera-Çıralı Hike
(15 km - 6 hours -150 m ascent - 600 m descent)
We start our walk with a short transfer from Beycik village (800 metres altitude)
We descend to Ulupınar through the pine forest path and forest road with plenty of oxygen. Here we get Trout Fish menu at the Fish Restaurant.
At the end of the afternoon, we continue our walk from Ulupınar to walk among the centuries-old plane trees in the waterfalls and descend to Chiemera flames in the traces of the ancient Lycian road between the pine trees with plenty of oxygen. We listen the mythological Chiemera legend that has not been extinguished for thousands of years. After a short walk, we meet with the vehicle and go to our hotel. Rest and sea break at Çıralı Beach, which is only 100 m from our hotel
Day 3 :
Cirali-Maden Bay-Cirali Hike
12 km / 100 metres descent -100 m ascent with 3 different Bays
We start our walk in the morning with a unique view of Olympos and Cirali. In the most tranquil bays of East Lycia, the path in the colour riot of blue and green almost fascinates us. We pass through 3 different bays with ups and downs and finally reach Maden Bay. After a swimming and picnic break here, we return to Cirali. Late afternoon rest at the beach or hotel in Cirali
Day 4
Korsan Bay -Gelidonya Lighthouse-Korsan Bay 9 km
200 m ascent -200 m descent
A short transfer will take us to the starting point of the walk. At the same time with the fascination of Pirate Bay. We say hello to the day accompanied by nature, sea, blue and green. In 1936, from the path where all the materials of Gelidonya Lighthouse were removed with horses and donkeys; We reach Gelidonya Lighthouse, which was selected as the best photo frame of 2007. We listen to the story of the Demir family, who has been operating the lighthouse for 3 generations, against the view of the Five Islands and Gelidonya Lighthouse. After photo breaks ,we walk back to Pirate Bay for swimming break and have a pancakes break for the Lunch. We transfer to Antalya airport .
Trip Information
GENERAL INFORMATION FOR WALKING
In the company of a professional licensed guide, we will experience the thousands of years old paths of the Lycian Way!
The number of people is limited for an efficient and enjoyable walk!
Groups are min. 6– max. 16 people
Since the walking track passes through villages and their local businesses within the scope of sustainable tourism, expectations should not be high in those businesses! Some of them are bungalows with pools, some of them are village houses, but the most important criterion is that we do not compromise on cleanliness.
The track is generally beginner level. Anyone with good performance can walk!
Those who have chronic illness and allergies must notify during registration!
Due to natural conditions (rain), the guide has the right to change the program.
Please do not leave your reservations to the last minute as the hiking season is spring-autumn!
You have to pay a pre-deposit because walking cancellations cause problems. These deposits are used for hotel and vehicle pre-reservation.
The program consists of Lycia's original trails and optional tracks. It is the combination of the most enjoyable, beginner level and most popular photo spots of the Lycian Way.
NECESSARY MATERIALS
Hiking Shoes: Since the trail will consist of hard ground and some stony areas, you should have a boot with a hard sole and ankle grip
Rucksack: A 30-40 litres backpack which does not sweat on the back and has a protective back can be preferred. It is necessary for personal needs and to carry picnic and water!
Raincoat: There may be small rains due to weather conditions and seasonal changes.
Jackets &Polars: According to the season, the weather is a little cool in the evening and in the morning.
Walking stick: Optional as the hike is beginner level. The baton puts the weight of the back and body on the hands and baton.
Towel-Swimwear: We take sea breaks during the walk or at the end of the day.
Temperature: 22-27 C degrees
Sea Water : 20-24 C
Pricing
PRICES & DATES
(4 Days-3 Nights ) 28th September-1th October / 12-15th October 2023 / 19-22th October / 26-29 th October / 2-5 th November /11-14th November /16-19th November /23-26th November / 7-10 th December / 29th December-1th January 2024
GROUP PRİCES
- 375 € per person / Group Tour
Deposit :100 €
Single room supplement :100 €
PRIVATE TOURS
Please contact for Private Tours
we can customized dates and programmes for you.
What is Included
English speaking Guide
3 nights with Accomadation in Bungalows,hotels and village houses
Air contioned Transfer by minibüs ,vito or Private car
Dinners
What is Extra
Enterance fees
Lunch
Drinks
Personal Expenses